Effective Leadership and Leader Renewal
Douglas Long: Re-Creating Leaders and Re-Creating Organisations
Home About Me Keynote Speaking Publications Leadership Updates Workshops Blogs Subscribe Links
"Leadership is the key .... but what is it really all about? I read lots of books and articles and hear lots of discussion about facilitative leadership, servant leadership, transformational leadership, leadership qualities, leadership skills, leadership styles, and all the rest. All it does is confuse me. What really are the essentials of leadership? What is effective leadership?"
Sometimes its hard to keep up with leadership issues - especially on the macro front. On a quarterly basis I try to deal with some of the big leadership issues confronting the world as well as those that confront us on a personal level. The primary purpose of my Updates is to encourage thinking about the issues leaders face and how they, and we all, might better address them.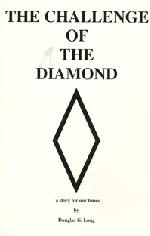 Subscribe to my Leadership Updates. There is no charge. All new subscribers will receive a complimentary copy of The Challenge of The Diamond (3rd Edition) which is now available as an e-book.
Leadership Updates (Quarterly) and DougNews (Monthly) are provided by e-mail free of charge.
To receive copies of current updates and other information, please contact me using the link supplied. PLEASE NOTE MY PRIVACY POLICY - YOUR DETAILS WILL NOT BE PASSED ON TO ANY THIRD PARTY. You may cancel your subscription at any time without obligation.
Four updates are provided each year and regular briefing newsletters are sent each month.
Why not subscribe now? There's no cost and it creates no obligation for you - you don't even need to read them - although I hope you will!
You can "unsubscribe" any time without obligation.